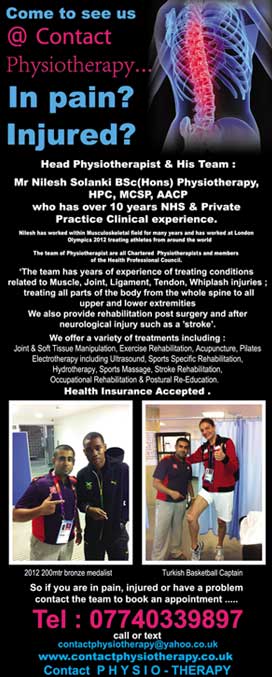 Contact Physiotherapy was established by Nilesh Solanki in 2009. Nilesh qualified form the University of East London in 2002 with an Honours Degree and has since worked within the NHS & Private Practice. He currently practices as Head Physiotherapist at 'Contact Physiotherapy' .
At CONTACT PHYSIOTHERAPY, the team have over the years built up a loyal patient base. Team 'CONTACT' have specialised in the treatment of Spinal, Lower Limb, Upper limb & other Musculoskeletal Orthopaedic dysfunctions helping people recover from injury, surgery to facilitate recovery to the desired activity whether it is being able to walk safely or to return back to elite sporting activity. Over the years Nilesh and the team have provided support to Professional & Amateur athletes in Rugby, Football, Swimming, Thaiboxing & various Martial Arts to name a few.
At CONTACT PHYSIOTHERAPY the team also offer Neurological Rehabilitation for Patients who have had a Stroke, or have Multiple Sclerosis, Parkinsons or Guillain Barre Syndrome.
At CONTACT PHYSIOTHERAPY we have a strong working relationship with the Orthopaedic Consultants, Neurosurgeons, Specialist Physiotherapists, Podiatrists, Occupational Therapist and Personal Fitness Trainers to offer a patient centred service.
At 'Contact Physiotherapy' all our Physiotherapists provide a patient friendly service offering and explaining diagnoses, treatment and management to 'get you back on track'. We aim to help you rehabilitate and recover back to full fitness.
Here @ Contact Physiotherapy – all our Physiotherapists are member of the Health Professional Council and the Chartered Society of Physiotherapy.
At Contact Physiotherapy we have access to private Pilates Studios, over 200 pieces of resistance and cardiovascular equipment, 3 Swimming pools including a Hydro Jet Pool. We also have access to a 200m indoor running track to allow an optimum rehabilitation environment for patients. We have disability access and ample parking onsite. We are also centrally located with easy access for patients. We have regular patients who travel from neighbouring towns and cities due to accessible location and facilities.
"There is no problem too big or too little for the team so if you need any Physiotherapy input. Please do not hesitate to call / text / email to schedule a Physiotherapy Appointment."